The Sloop Inn, Llandogo - Bar Food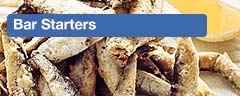 Bar Meals - Starters

Delicious, hearty starters served in the informal comfort of our bar.


Whitebait

£5.50
Served with brown bread & tartare dip

Paté & Toast

£4.50
Delicious paté served with your choice of brown or white crusty toast

Homemade Soup

£4.75
Served with a crusty roll

Homemade Meatballs

£5.00
With pasta in a tomato and basil sauce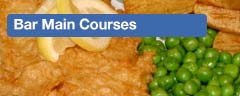 Bar Meals - Main Courses

Home cooked favourites for you to enjoy in our comfortable bar, or al fresco in the beer garden


Horseshoe Gammon

£10.75
Served with 2 eggs, chips and peas

Smoked Haddock,Mozzarella & Spring Onion Fishcakes

£9.75
Served with chips, sweet chilli dip and dressed salad leaves

Breaded Fillet of Plaice

£9.95
Served with chips, peas and tartare sauce

Homemade Beef Burger topped with Bacon & Cheese

£10.50
Served in a crusty roll with chips & salad garnish

Homemade Beef Lasagne

£9.75
Served with chips or garlic bread and a side salad

Home Cooked Honey Roast Ham

£8.95
Served with 2 eggs, chips and peas

Homemade Vegetable Lasagne (V)

£9.75
With chips or garlic bread and a side salad

Trio Of Pork Sausage

£8.95
Served with creamy mashed potatoes, peas & onion gravy

Wholetail Scampi

£9.85
Served with chips and peas
As our menu is constantly changing, it is impossible to list all possible allergens here. Some of our dishes may contain nuts, milk or fish. Please ask for detailed allergen advice when ordering. Daily specials are always available, please see the blackboard for details. We are always happy to cater for special dietary requirements, just let us know what we can do for you.